The High Current Copper Terminal, a critical component in ammeters, voltmeters, and resistance meters, functions as the connecting point for wires within these devices. These terminal blocks are crafted from environmentally conscious materials, delivering not just functionality but also longevity. Their robust build ensures resilience, effectively minimizing the impact of mechanical strain and negating the degradation typically associated with prolonged use. The meticulous manufacturing process ensures a dependable performance while reinforcing the product's reliability.
Further enhancing the terminal's safety and efficacy, the shell of the product is constructed from PA66, a material lauded for its excellent flame retardant and insulating properties. This shell shields the highly conductive brass components, reducing the potential for overheating and increasing overall performance efficiency.
In a conscious effort to prioritize durability and stability, the terminal connectors are forged from copper – a material recognized for its superior quality and longevity. This choice of material plays a pivotal role in prolonging the product's lifespan, ensuring its resilience in even the most demanding environments and promoting a sustained, reliable performance throughout its service life.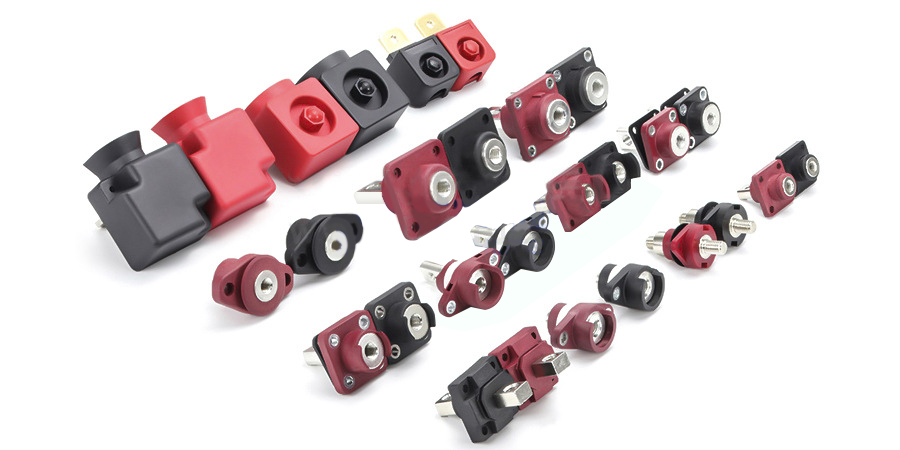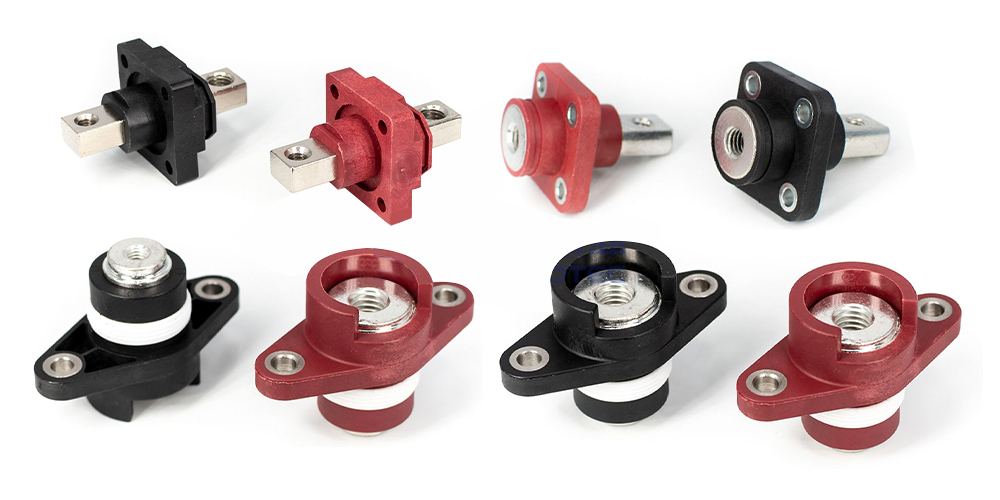 4 Hole Flange Black and Red High Current Copper Terminal 200A Straight Panel Mount Feature
| | |
| --- | --- |
| Product Type | |
| Docking Method: | Thread |
| Mounting Type: | Panel Mount |
| Color: | Black, Red |
| Orientation: | Straight |
| Terminal Size: | N/A |
| Contact Finish: | Nickel Plating |
| Terminal Material: | Cooper |
| Thread Diameter(Top/Bottom): | M8/M6 |
| Shell Material: | PA66 |
| Shielding: | 360° |
| | |
| Electrical | |
| Dielectric Strength: | 3000V |
| Rated Current: | 200A |
| Rated Voltage: | 600V AC |
| Operating Temperature: | -40℃~125℃ |
| | |
| Mechanical | |
| Insertion Times: | > 500 |
High Current Copper Terminal Drawing